For many years technology has offered companies a way to gain competitive advantage by doing things in new and innovative ways. Companies of all sizes can gain from an investment in technology as computing increasingly becomes cheaper and more powerful.
We help businesses save money, work smarter and do more
---
News Flash: Loadit v1.1 available now
Loadit can save you time and money by automating routine data handling tasks.
Its intuative visual interface means you don't need to be a whizz kid to use it.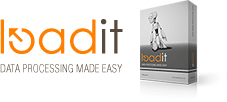 ---